Our production process sets us apart
We use organic products in the preparation of our menu, selecting fresh and natural ingredients without preservatives, only food with high nutritional value.

We supply the food prepared in our central facilities and packaged in isothermal containers, transporting it in properly conditioned vehicles to the venue of the event. We also prepare food on site, displacing a team of professionals.

At Menusport we certify quality and promote environmental education of the impact of our activity in all our employees and collaborators. ISO9001 -14000.

We have a wide variety of menu options depending on the characteristics of the event. We can make menus adapted to any sports practice and special diets.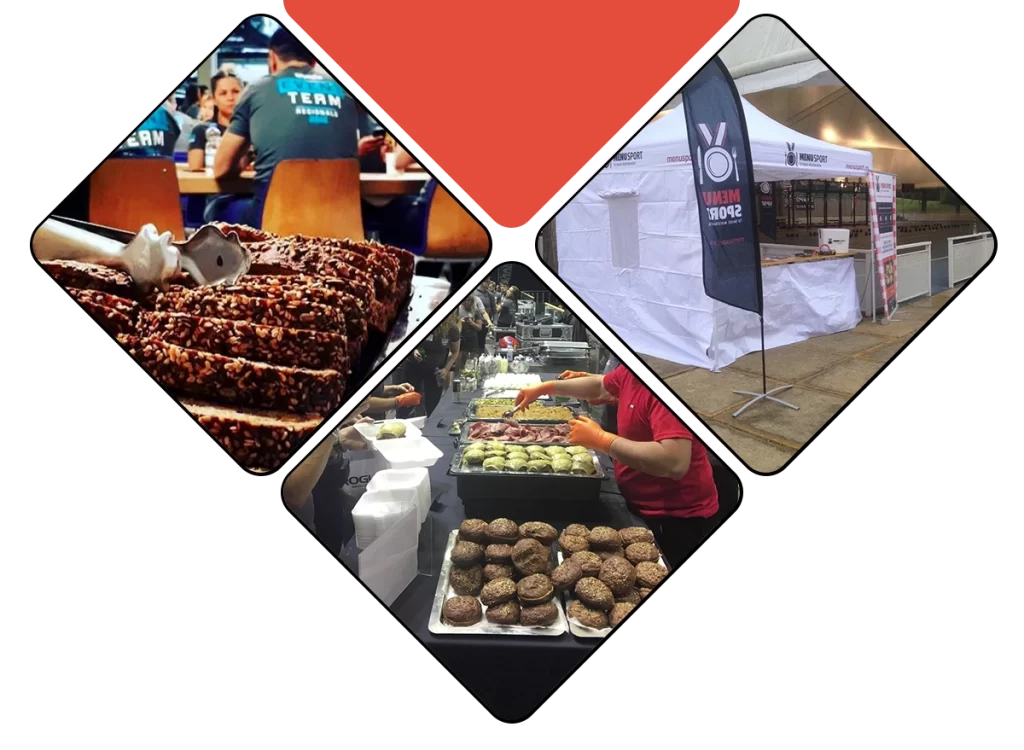 Choose our menu line according to your event
Menu specially prepared for endurance athletes (runners, cyclists, triathletes).
With recipes where the amount of carbohydrates prevails, to sustain your workouts and replenish glycogen afterwards.
For people who do strength training (bodybuilding, rugby, weightlifting, crossfit)
A menu designed to increase your strength and endurance, with a high value of protein, carbohydrates, fiber.
It is our line for those people whose goal is to stay in shape. Supply the body with the necessary nutrients for optimal functioning. Dishes moderate in energy and nutrients, varied and balanced
If you don't know which one to choose, contact Menusport and we will design a menu adapted to the characteristics of the athletes and staff at the event.
Sports and good gastronomy come together in the sports events organized by Menusport.
We have a large infrastructure of staff and equipment, along with the necessary operations to execute large-scale events, taking care of organizing all types of sports events at the national and international levels.
Our logistics team will handle the planning and transportation of materials, ensuring proper organization and attentive care for attendees and competitors, paying special attention to every detail based on the type of sports event.
Do you need to organize a sports event?
Contact Menusport and make your sports event a success, we take care of everything.
With extensive experience in organizing sports events anywhere in Europe, we've got you covered.
Tell us your idea, and we will make it happen!